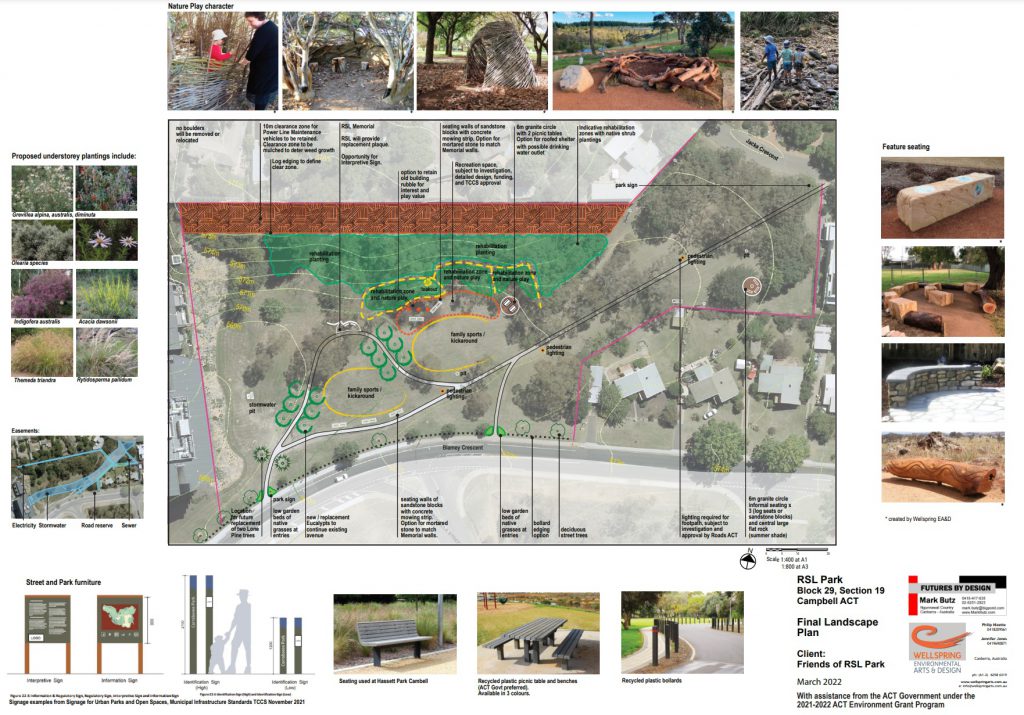 We are pleased to release the final landscape plan ('the plan') for RSL Park.
Prepared through a community-driven process which involved consultations with the local community, RSL ACT Branch and RSL National, the plan articulates the community's overall vision for RSL Park.
We will use the plan to identify and prioritise volunteer activities, apply for funding and to undertake staged rejuvenation works at the park over the coming years.
Key design and planting elements in the plan include:
Informal seating areas and picnic tables
Park signage
Rehabilitation zone
Soft landscaping
Nature play
Recreation space
Pedestrian lighting
All proposed elements of the plan – except for pedestrian lighting, which is to be considered by Roads ACT – have in-principle support from the land manager, ACT Place Management of Transport Canberra and City Services (TCCS).
After months of discussions and negotiations with TCCS, we are pleased to have a final plan in place. Each element in the plan will require detailed planning and endorsement by TCCS prior to any works being undertaken.
We would like to thank the community and our stakeholders for their time and enthusiasm in contributing to the development of the plan. We are grateful for your ongoing assistance and support.
We also thank the consultant team, Futures by Design and Wellspring Environmental Arts & Design. The plan was developed as part of the Friends of RSL Park Campbell's Nature in the City project.
Click here to learn more about the park revitalisation project