We have resumed our Nature in the City Grant Project after a two-month hiatus due to the COVID lockdown.
Thanks to the efforts of our dedicated volunteers, visible progress has been made to clear woody weeds from the embankment on the southern section of the park. Weed removal will continue on the central section, which is covered by the ACT Nature in the City Grant Project.
We have also begun preliminary planning on the development of a landscape plan for the park. On Friday 19 November, volunteers from our group joined representatives from our partner organisations – RSL ACT Branch, RSL National and ACT Transport Canberra and City Services – to discuss visions and priorities for the staged enhancement of RSL Park.
Facilitated by Futures by Design and Wellspring Environmental Arts & Design, the workshop involved discussions and a walk through the park to refine our thinking on key design concepts and elements.
The information gathered from the workshop will be incorporated into the draft landscape plan, which will be presented to the wider community on Saturday 4 December. Please see the image below for event details. Everyone is welcome to attend.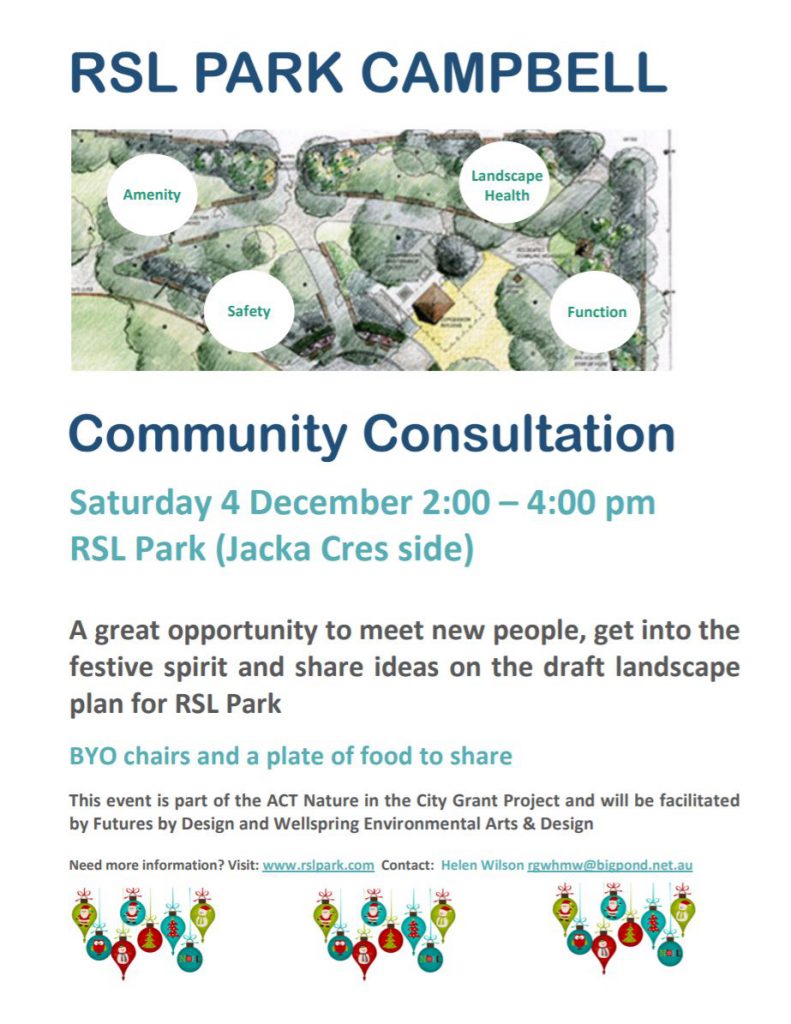 If you are unable to attend the community consultation, you can still have your say through an online platform. Details will be released on our website in the next two weeks.
Last but not least, our monthly working bees are back in full swing with new summer times:
Friday 26th Nov from 8:30am to 10:30am
Saturday 27th Nov from 3pm to 5pm
Working bees are a great opportunity to meet new people in the community, connect with nature and have some weeding fun. We hope you can join us.